Artist Bramantyo Prijosusilo's mockery of violence gets real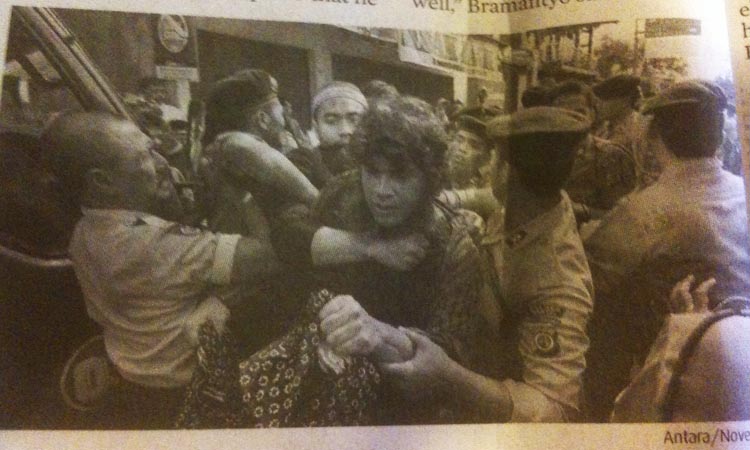 Artist's mockery of violence gets real
Bambang Muryanto, The Jakarta Post, Yogyakarta | Thu, 02/16/2012 8:51 AM
Artist Bramantyo Prijosusilo's planned street performance that criticizes rampant violence was forcefully aborted after he himself experienced it for real.
Entitled Membanting Macan Kerah (Slamming Fighting Tigers), the performance was to have been staged solely by Bramantyo on Wednesday outside the headquarters of Indonesian Mujahideen Council (MMI), a hard-line Muslim organization founded by terrorist convict Abu Bakar Ba'asyir, in Yogyakarta.
Bramantyo arrived at the headquarters at 9 a.m. local time on a horse cart. But before he could begin the performance, he was dragged away by MMI members.
Some reportedly beat Bramantyo as they tried to bring him into the building before the Bantul Police, which had gone to the site prior to the scheduled performance, freed the artist and took him to a police station in a truck.
In a statement, Bramantyo, whose hand was injured in the incident, said that the performance would consist of greeting people, poetry reading, the slamming of an earthenware jug and saying goodbye.
"If necessary, I will open a dialogue for 30 minutes at the most. If not, it will only take five minutes to perform," he said in the statement.
He said that he chose the MMI headquarters because the location was easily accessible and visually attractive. This was considered good for documentation purposes that he would later use in an installation.
MMI secretary M. Shabbarin Syakur said that his organization refused to have the performance there because Bramantyo had issued a statement considered to be insulting to Islam.
He denied suggestions that his organization was keen to resort to violence. He said that the MMI was always open to dialogue.
Shabbarin said that his organization did not intend to hurt Bramantyo. "We tried to take him into the headquarters to secure him," he said.
He also said that the MMI has previously filed a report to local police regarding Bramantyo's alleged insult against Islam and asked that he be arrested and his performance banned.
"Bramantyo owes an apology to the MMI and the Muslim community," he said.
In the previous statement, Bramantyo accused the MMI of undermining the authority of the Indonesian state and leaders, as well as the cultural authority of Yogyakarta Sultan Hamengkubuwono X. He also said the MMI had staged a rebellion against authorities.
MMI chairman Irfan S. Awwas said that his organization could tolerate negative stigmatization directed at the MMI, but not at Islam.
Bramantyo, still at the Bantul Police station late on Wednesday, said he would not sue the MMI over the attack.
"I am thankful to them because they have played their role very well," Bramantyo said.