Gorontalo - a hub in Sulawesi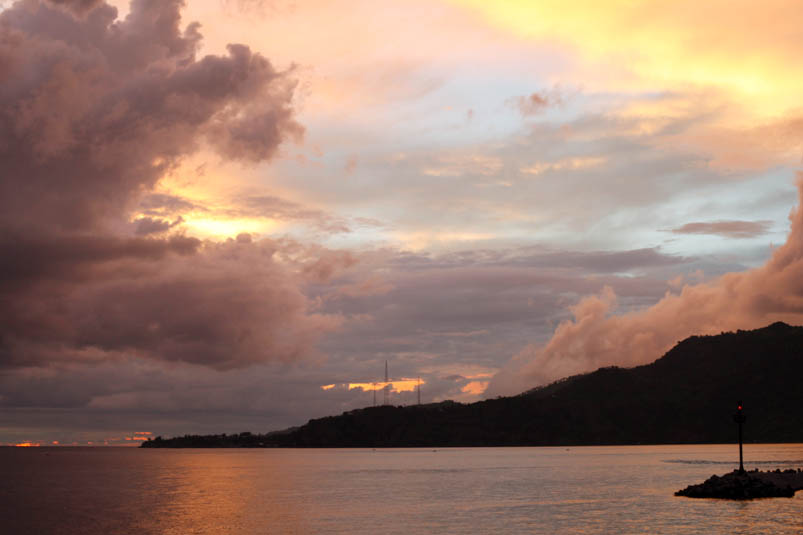 Gorontalo:
If you have nothing to do in Gorontalo don't go there but as it is very likely that you end up there when traveling in Sulawesi - here a few tips.
Coming from or going to the Togeans - ARTICLE HERE or going from the Togeans to Bunaken ARTICLE HERE
Gorontalo does provide good traveling services - ferry to the Togean - airport to the south - or bus to Manado.
Most people stay at Oasis hotel or Melati. If you want to stay in the center go for Melati. Every rickshaw or taxi drivers knows Melati hotel. The good rooms are good with mosquito nets and writing desks. The bad rooms are bad without any net or bathroom or anything!
There are two things I recommend you doing if you have to spend some time there.
A) eat close to the ferry port. Photos below. There is a great view and amazing sunsets. The photo at the big restaurant close to the port is rather good and still cheap (19.000Rp for Nasi Goreng)
B) Go to the hot springs. Taxi or Rickshaw drivers will know. It is about a 30 minutes rickshaw cycle from the Melati. The setting is quite funny with its private bath rooms in cartoon, bug and fish style.
Lukas Birk